Commercial Oven Repair
Are you looking for a commercial oven repair? Industrial ovens need to be properly serviced, especially if it has to work at all times. Scheduling a regular service is the best way to make sure that your commercial oven remains in good shape for many years. When you notice that your commercial oven has a minor or major damage, the first thing that you need to do is to call a commercial oven repair service provider.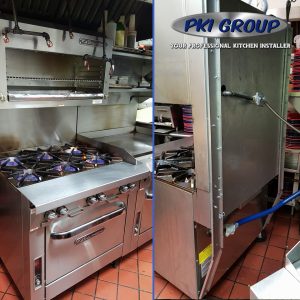 The PKI Group is a reliable and competent company that you can trust. Our experienced and well-trained commercial oven repair technicians are able to detect and diagnose the root cause of the oven's damage. They will arrive at your food business with a full range of replacement parts to ensure that your equipment offers the best performance.
The PKI Group is a bonded, insured and licensed company with more than 30 years in commercial kitchen installation, maintenance and repair. To make sure your commercial oven is free from unexpected damages, we can schedule a maintenance on a quarterly or yearly basis. By doing this, you can be sure your kitchen equipment will perform as expected for many years to come.
If you are searching for a commercial oven repair specialist, don't look any further. Our company is the ultimate solution to your problem. We offer high-quality services at affordable prices within anyone's budget. We have served hundreds of food and beverage businesses, and any of our customers can speak about our job performance. We also do commercial equipment installation, welding, repair, and demolition. Also, we can storage your previous equipment if you are upgrating to new ones, as well as give you suggestions if you need any equipment in particular that will suit best your business. Give us a call for a free estimate at 954-530-3757 or click HERE.
More Commercial Kitchen Services by PKI