Looking For A Commercial Refrigeration Service?
In the present time, there are many brands available for commercial refrigeration. This is why it is very important to find a commercial refrigeration service that will fit the needs of your business. Many commercial industries rely on refrigeration equipment to keep their supplies and products in optimum condition. For example, companies that are working within the food industry need to store and keep their perishable products at required temperatures. Once you notice that your refrigeration unit is not working properly, consult a commercial refrigeration service to make sure that this problem can be addressed.
The PKI Group Commercial Refrigeration Service: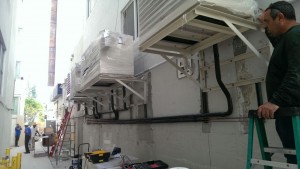 • Our professional refrigeration company will make sure your equipment is installed and fixed properly. We have years of experience in providing top quality commercial refrigeration service.
• Since we are experts in our field, our clients are assured that their refrigeration service is done correctly, and our expertise makes us save time in the installation or repair process so that you can save money.
• With the help of our refrigeration company, your business operation would be back to normal. Apart from this, we have the ability to check the remote temperature monitoring of your commercial refrigeration easily.
• We will guarantee all of your products will be stored at the right temperature once we finish our job. We will check with you after the installation to make sure everything works right and accordingly and up to code.
• The overall performance of our installation process will make your commercial refrigeration in your bar, restaurant, casino, school or any other food and beverage business be reliable at peak performance hours of operation.
When it comes to commercial refrigeration repair, our company is the perfect choice to consider and hire. We have all the advanced equipment for commercial refrigeration service. With us, you are assured to get the best results without spending an enormous amount of money. So, what are you waiting for? Call us today at 954-530-3757 or click Quote and we will get back to you shortly.
More Commercial Kitchen Services by PKI