Commercial Kitchen Exhaust Hood Installation
Are you looking for a commercial kitchen exhaust hood installation? Commercial hoods are in great demand these days as they really help in maintaining the cleanliness of your food and beverage business. An exhaust hood helps in collecting smoke, grease, odors, steam, and combustion particles. Therefore, it is recommended to install it with The PKI Group to maintain the fresh supply of air in your restaurant.
Why Hire Us?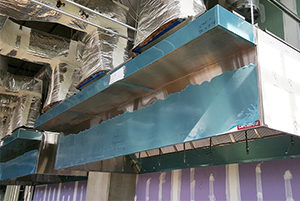 Let The PKI Group install your commercial kitchen exhaust hoods and ventilation equipment. We specialize in the installation, maintenance, and cleaning of commercial exhaust fans, vent hoods, and make-up air supply fans. We offer purchase consultation and installation of commercial hoods, ventilation exhaust systems and any unit regarding the productivity of your food and beverage establishment.
We have years of experience in restaurant equipment installation and maintenance business, and we are proud to stand behind our craftsmanship. Rest assure knowing that your kitchen installation and maintenance will be handled by the best technicians in the business.
Running a restaurant is a busy job, and the last thing you need is your kitchen equipment not working properly or a kitchen with ventilation issues. At The PKI Group, we understand this situation and offer reliable services to keep your business going. We don't have hidden costs, and our work is done right the first time, every time.
Our Services
Commercial Kitchen Exhaust Hood Installation
At The PKI Group, we understand that commercial kitchen exhaust hoods are a critical part of your restaurant kitchen. Therefore we offer prompt, skilled, and high-quality service for all models and brands. With years of experience serving restaurants and commercial kitchens around the Florida area, The PKI Group specializes in a wide range of installation, repair, and maintenance services for your food service facility. Our commercial kitchen exhaust hood services include:
Exhaust hood system repairs
Grease filter installation
Belt, bearing, and motor repairs
Cleaning and troubleshooting
And much more!
Kitchen Ventilation Installation
The process of kitchen ventilation installation requires an advanced knowledge and exceptional skill regarding air movement dynamics. The PKI Group technicians have the training and experience required to install and integrate a fully operational kitchen ventilation system effectively.
Our installation technicians are certified and licensed, and they follow all applicable state and local building codes. Our experienced design team reviews every project thoroughly and then makes proper recommendations to make sure that the installed system satisfies your unique requirements completely. Our services regarding this category include:
Installation of commercial kitchen ventilation systems
Replacement and removal of old ventilation equipment
Ventilation system cleaning and repairs
Custom stainless steel fabrication
And much more!
The PKI Group – Commercial Kitchen Exhaust Hood Installation
We proudly serve the Florida area with the highest expectations of our industry. We focus on offering the quality of our workmanship as we continue to build long-lasting relationships with our clients. Call us today at 954-530-3757 or click HERE for further assistance.
More Commercial Kitchen Services by PKI