Commercial Restaurant Equipment Repair
Are you looking for commercial restaurant equipment repair? Restaurants are one of the top businesses these days. The opening as well as the success of the restaurant, along with the quality of food and location depend on the equipment. That why it needs to be long lasting, effective, and must fit in the budget.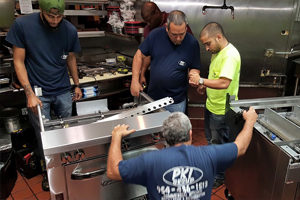 When it comes to the installation and repair of commercial restaurant equipment, you can trust The PKI Group. We have certified appliance technicians to guarantee that your food service appliances work properly and at their full capacity. We offer food equipment installation, repair, maintenance, and reconditioning services throughout Florida and internationally.
Why Choose Us?
With years of experience in the food and beverage industry, we specialize in on-site servicing of kitchen equipment and commercial-grade cooking. No job is too small or too big for us; whether you have a small coffee stand or a large restaurant, we can help.
Our goal is to exceed our client's expectations by providing an excellent commercial restaurant equipment repair service with:
365-days availability on a 24/7 basis 
Fastest response time
Reliable standard or emergency services
Highly qualified and certified technicians equipped with essential replacement parts
Reliable service and maximum efficiency at the lowest cost possible
Our Services
At The PKI Group, we specialize in the installation and repair of commercial restaurant appliances throughout Florida and internationally. Whether you need a regular servicing or an emergency repair, you can count on us.
Our services include (but not limited to) the following:
Refrigeration Repairs
Maintained and proper running of refrigeration systems is crucial for a restaurant. Our trained appliance technicians can get your refrigeration system up and running in no time so that you can resume your business.
Refrigeration equipment that we service and repair include:
Fridges – walk-in fridges, reach-in fridges, under-counter fridges, prep-table fridges, bar fridges and merchandise fridgesFreezers –
Walk-in freezers, reach-in freezers, worktop freezers, blast chillers, under-counter freezers, ice cream freezers
HVAC – Heating, ventilation, dehumidifiers
Ice Machines – Flake ice machines, full-cube ice machines, half-cube ice machines
Coolers – under-counter coolers, prep-table coolers
Cooking Line Repairs
We understand how important it is to maintain a cooking line equipment running correctly and how important it is to get it repaired in case of malfunctions.
Electrical and gas cooking equipment that we service and repair include: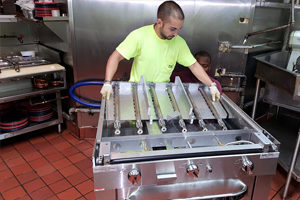 Ranges – Restaurant ranges, Heavy-duty ranges, wok ranges
Ovens – Convection ovens, conventional ovens, industrial ovens, pizza ovens
Fryers – Tube-type fryers, open-out fryers, flat-bottom fryers
Grills – Club grills, charbroilers, outdoor grills
Broilers – Radiant broilers, infrared broilers, cheese melters, chophouse broilers
Steamers – Connectionless steamers, convection steamers, boiler less steamers
The PKI Group – Commercial Restaurant Equipment Repair
To learn more about our commercial restaurant equipment repair services please Call us today at 954-530-3757 or click Equipment Repair to fill out a quick form.
More Commercial Kitchen Services by PKI