Looking For A Restaurant Equipment Repair Service?
Restaurant equipment repair service is vital, according to the amount of use and how long you have had your kitchen equipment for. For example, walk-in coolers are essential in a business because they allow the establishment to continue operating the whole day to service clients. Since your company deals with food, your equipment must be on top of their conditions. You cannot afford your equipment to break down one day and lose a productivity. Fortunately, The PKI Group restaurant equipment repair services can assist you with any concern.
The PKI Group
We have extensive knowledge when it comes to any type of restaurant equipment repair service.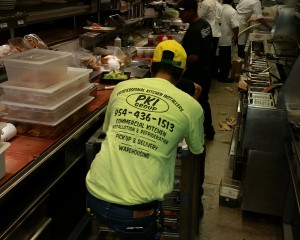 Our 35 years in this field, allow us to fix accurately any problem as fast as you need us to fix it. Your business will not be hassled and lose money and productivity because we know how these equipment work and when they can start malfunctioning. The PKI technicians are highly trained and certified dedicated support and ensure that you have the best restaurant equipment repair service. Our knowledge goes from any equipment brand, and we keep up to date in any new equipment and model.
Are you in need of a 

Restaurant Equipment Repair Service

?

We are the number #1 choice in the food and beverage industry for anything related to commercial kitchen installation, restaurant equipment repair, demolition and warehousing. Our selected staff of technicians are certified and keep updating their knowledge with the newest top of the line equipment out there. We work with brands such as Artic, Berkel, Cleveland among others. With our services, we can assure you that the restaurant equipment repair service you are looking for will hire suits your needs.

Call us today at 954-530-3757 or visit Service quote and we will get back to you shortly.
More Commercial Kitchen Services by PKI