Restaurant Equipment Service
Are you looking for a reliable restaurant equipment service? At The PKI Group, we understand that your kitchen equipment needs to be up and running at all times. We are professionals in the food and beverage industry regarding kitchen equipment installation, maintenance, and repair.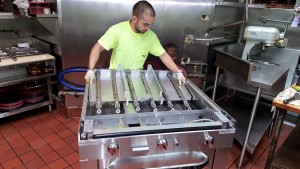 We are aware that your business can't afford to leave your kitchen equipment without maintenance because you might be losing customers at the end of the day. Also, leaving your kitchen equipment without the replacing parts might lead you to buy a new unit. As a business owner, you don't want unexpected expenses at the end of the day. Remember, leaving your kitchen equipment unrepaired can cause major problems especially on the busiest days of the month.
Get started by giving us a call if you feel your kitchen equipment is not running smoothly, and if you hear any unusual sounds that might compromise the quality of your food or beverage without you even noticing. For example, if you are having problems with your storage conditions we will fix it and make sure you have the proper temperature to maintain food quality, nutrient content, and control of bacterial growth. Also, if you are having problems with your commercial burner or gas installation, we will diagnose if there's any gas leakage, to prevent any problems in the future and any possible fire hazards.
The PKI Group – Restaurant Equipment Service
We are always happy to discuss what are your options regarding the maintenance of your equipment, and we will be upfront with you if you need a new unit or only a replacement part. We can suggest any particular brands that you need in your workplace, or equipment we think is the best value for your type of operation. Durability and reliability of a kitchen equipment are keys to the on-going success of any food and beverage business! Give us a Call for your Restaurant Equipment Service at 9544361513 or click Contact Form, and we will be back to you shortly.
More Commercial Kitchen Services by PKI