Food Equipment Repair
Are you looking for a food equipment repair? In today's world, food and beverage services are considered as one of the most successful businesses. If you are planning to join this industry, or you already had, you will need the right equipment as well as the right professionals to help you repair any of your equipment if need it. Why? Because there are times that your food equipment will encounter minor to major damages. However, if you have a company like The PKI Group servicing and maintaining your commercial equipment, you won't have any unexpected problems.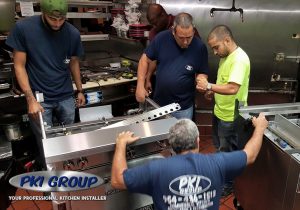 We are professional commercial kitchen installers, so we have enough knowledge of when and how equipment needs an upgrade or just a replacement part. Our highly trained technicians are up to date with the newest technology as well knowledgeable in classic brands and older units.
Through our gallery of photos, you can view our most recent food equipment repair services, as well as kitchen installations, refrigeration services, welding and repair modifications. We have served hundreds of food equipment, and our customers can speak for ourselves on how well we have delivered our job. We also work with kitchen providers not only to be up to date with their newest equipment but also installing their units around the country.
We have more than 30 years of experience in the field of commercial kitchen installation, maintenance, and repair. We are licensed and insured; important facets of a business dealing with expensive equipment that is going to provide food and beverage for consumption.
Our company is here to respond to your concerns as we are well trained and fully skilled, providing our clients with high quality and reliable food equipment repair service. As experts in our field, we can guarantee that you will be pleased with the end result. Call us today for your free estimate at 954-530-3757 or Click Form and we will get back to you shortly.
More Commercial Kitchen Services by PKI