Welding & Modification Service Details
At PKI Group, we offer top-rated commercial kitchen welding and modification services with maximum satisfaction and minimal costs. You can count on us for any welding and modifications you may need. Our experienced Team is trained and equipped to do on-site welding and any polishing.
About The PKI Group
The PKI Group is a leader in installation of quality commercial foodservice equipment. The professionalism and dedication of our entire staff to bringing our customers the foodservice equipment package that will best suit their needs is unmatched.
We take pride in our attention to detail and are confident that our customers get what they want, but more importantly, what they really need. We offer "value-added service" through the entire equipment purchasing process from initial order to start-up and training.
Download Our Brochure
Service Brochure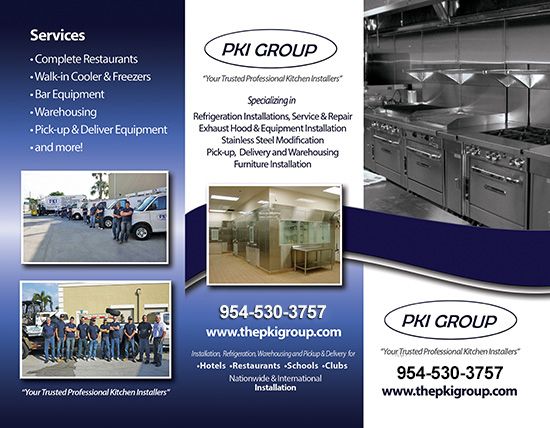 Maintenance and Repair
Whether in a restaurant or a bar, commercial kitchens come under a lot of pressure because of extended work periods in high heat levels. This can damage them from different places like stove, counter, sink, and so on.
If you sit on these issues for long, the problems will accumulate to become a giant snowball that will curb the fire of your stove – you don't want that. You need your stove to cook so you can sell. Well, that is where we come in with our maintenance and repair service.
We can offer preventative maintenance for your commercial kitchen to find and fix the problems before they arise and turn into a disaster. Furthermore, if something is broken, leave it on our technicians and welders to fix it. We service, install, and repair all types of commercial kitchen components from stove parts, oven hoods, counter tops to salad bars, sinks, and conveyors.
Why PKI Group for Welding & Modifications?
Resourcefulness: Our technicians and engineers can figure out precisely what needs to be done in a commercial kitchen to boost efficiency without compromising style. They'll squeeze value out of every penny you invest in us.
Wealth of Experience: The team of the PKI group comes from various technical backgrounds and has a great deal of experience. They can figure out the problem in your kitchen quickly and fix it before it gets worse.
Maximum Safety: Every single member of our crew working on-site is equipped with the necessary safety gear. And they follow all mandated SOPs to ensure your property stays safe, especially during welding sessions.
Interested in working with us? Give us a call and get started today; we'll be more than happy to help.