Looking For Commercial Refrigeration Installation?
If you own a business, having the right refrigeration systems is important as well as the installation process, that must be done by a team of skilled and experienced professionals.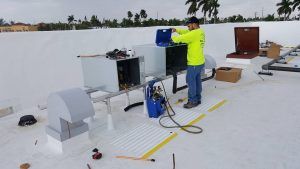 The PKI Group designers and engineering team will make sure that you have the best unit available that will fit all of your company's needs. You want to make sure that the unit will be large enough, will cool your items to the perfect temperature, and more importantly, be long-lasting enough, so you don't have to replace it sooner. The PKI Group team is also responsible for finding the best energy efficient models so you can have the top of the line in refrigeration systems.
After the engineering team and designers work together, the installation team will come to your business and install the entire refrigeration unit. This usually takes time, but because we are professionals, you will have a properly installed commercial refrigeration unit within hours. They take care of all the electrical and wiring of the unit, so you have all in one package from the designing to the execution of the commercial installation process.
Commercial Refrigeration Maintenance
When you have commercial refrigeration unit, you will want to make sure that service and maintenance are regularly done. Our PKI installers will come to your business periodically to check everything is still running as it should, as well as making any small repairs that they come across. The routine service will ensure that your unit continues to run as it should, with no problems.
Anything that is done after the installation process is considered optimization. This refers to the reduction of energy consumption and staying on top of any new models that come out. In doing so, you help to continuously reduce the energy used by these models and you can ensure you spend less in money on electrical bills. Running a grocery store with many refrigeration units can be a lot of work, but when you have a great team to help you through each step, your units will be up and running in no time. That will help you keep your business up and profitable for years to come.
The PKI Group Your Professional Kitchen Installers
At PKI Group, we are aware of all these details and we make sure that the design is cohesive with the commercial refrigeration unit that best suits your business and needs. With more than 30 years of experience in the kitchen installation industry, we take care of every kind of restaurant equipment installations from walk-in coolers and freezers to bar equipment. Also, we can also pickup-up, deliver and safely store your restaurant equipment and products if need it. Call today at 954-530-3757 or click HERE to fill out a quick form.
More Commercial Kitchen Services by PKI