Project Description
Client: Food and Beverage Business
Location: Miami Florida
Year Completed: 2019
Project: Full Commercial Kitchen Installation
Commercial Kitchen Hood Installation Near Me
Are you looking to establish a new bar/restaurant or any other food and beverage business? If so, we are here to help!
At The PKI Group, we outfit any commercial kitchen with new refrigeration, beverage and food preparation stations and other essential equipment for this type of industry. Our customers have a peace-of-mind in knowing that the new equipment installations have been well planned and will be professionally executed.
Whatever the scale, from small turnkey installations, to the removal and warehousing of equipment, you can count on The PKI Group crew members to work efficiently.
We are very detail oriented by asking the right questions ahead of time to ensure the client is satisfied with the result and meet their expectations. Our Certified Technicians will install and finish any equipment calibrations to ensure a proper start-up or performance check in accordance with manufacturer specifications.
Welding & Fabrication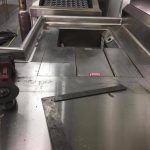 If needed, to complete a commercial kitchen installation, we have the welding capabilities to customize and fabricate any additional stainless steel pieces. We create new edges or expand any countertop dimensions to fit appropriately in the designated area.
See Us In Action
Maintenance and Repair
When dealing with commercial food equipment, there are three main aspects to consider: Electrical, Gas, and Steam. The PKI Group experts are knowledgeable in every aspect of the installation process as well as in assessing any malfunctioning unit. From electrical equipment to ensure the correct voltage and amperage to repair any faulty connections, to test inspections to assess wire insulation conditions and proper operating cycle.
Because most commercial kitchens have a gas equipment, our crew members test outer and inner components such as main burners and pilots to ensure the correct pressure. Moreover, clean combustion compartments and venting passages are also inspected for performance and safety reasons.
The PKI Group
The PKI Group is a dependable company offering maintenance and repair services to keep any food and beverage equipment in working condition and at peak capacity for faster delivery, better food quality, and satisfied customers. Call The PKI Group for any of our services at (954) 530-3757.
Follow us on Facebook.
Download Our Brochure