The PKI Group Commercial Refrigeration Repair Service
Are you searching for a commercial refrigeration repair service? Any commercial refrigeration problem in a business establishment is an emergency. Faults in commercial refrigeration equipment can result in thousands of dollars worth of perishable loss products, as well as costly repairs, customer inconvenience, and business downtime. The PKI Group offers refrigeration installations and repair of all makes and models with high-quality standards in performance with long lasting results.
Common Refrigeration Unit Problems
When a compressor overheats, the oil begins to break down, which then gets damaged and eventually lead to breakdowns in the future. All these due to a dirty condenser and lack of maintenance.
If a refrigeration unit is running despite a frozen evaporator not circulating efficiently, these could happen due to a poorly running fan, a malfunctioning thermostat, etc. When this fault occurs, the refrigerant liquid floods back into the compressor, which results in foamed up oil.
When a refrigeration unit has a flooded start, it's due to the refrigeration liquid exploding violently and damaging the compressor in different ways. Another reason for unit failure it the temperature dropping below 50 degrees Fahrenheit. This could result in the refrigerant vapor drifting out its place to the compressor during its off cycles.
You Can Rely On The PKI Group for Professional Commercial Refrigeration Repair Service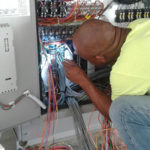 When you observe such faults happening, you need fast, professional commercial refrigeration repair service to minimize losses and keep your business running without problems.
The PKI Group has the knowledge, experience, and expert technicians required to repair, service, or install a commercial refrigeration system to satisfy your business requirements. No matter how complex or specific the job is, we can provide 24/7 emergency repair service. We are experts in commercial refrigerator repairs, walk in freezer and cooler repairs, and much more!
Additional Services
Commercial Kitchen Installation
While most of the essential aspects of a commercial kitchen are addressed during its design phase, there are many aspects that are critical during the kitchen installation. Our years of experience in commercial kitchen installation makes us the best candidate for your upcoming kitchen installation project. We are committed to offering the best service for nationwide and internationally.
Walk in Cooling Installation
The PKI Group is here to help your business with all your walk-in refrigeration needs. Our team of qualified and certified walk in cooling installation technicians have years of experience offering refrigeration solutions and walk in cooler service for a wide range of businesses, organizations, and industries. We install and repair walk-in coolers/freezers, refrigerated display coolers, blast freezers, cold beverage dispensers, ice machines, etc.
Problems related to walking cooler we can solve:
Walk in cooler air leaks
Walk in cooler leaking water
Walk in cooler temperature too high
Walk in cooler making strange noises
And much more!
The PKI Group – Commercial Refrigeration Repair Service
We look forward to working with you on your next project. Give us a call for any further questions at 954-530-3757 or click HERE to fill out a quick form!
Follow us on Facebook.