Project Description
Client: Telemundo.
Location: Miami Florida.
Year Completed: 2018
Project: NBC/Telemundo Equipment Installation
NBC/Telemundo Equipment Installation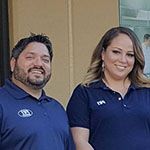 Ben Jr and Natalia recently finished up the NBC/Telemundo Project that they managed and coordinated together at a higher degree than most projects. Ben Jr was not only project foreman, but also acting Project Manager representing for our client who is located out of state. From the early conception of this project, PKI was directly involved in rough-in verifications, dimension and clearance verification, and were part of the early construction coordination. Throughout this high-end project, extra attention to detail was required to keep the superb design and chic look that was envisioned by our customer and NBC. This project also required exclusive dedication and flexibility of a large crew of our technicians and mechanics due to scheduling demands. Due to an unrelated early building construction delay that put the entire project behind by months, and a hard set projected completion date that had no forgiveness, the schedule was fast paced and ever changing and required a little magic and a lot of hard work to meet. Sending in our seasoned heavy-hitters to work alongside of Ben Jr, as he was both project foreman and acting project manager, proved to be the perfect team to get the job done.
Other Services
As important as precise equipment installations are for food service businesses, repair and maintenance are important to operating at peak performance properly. These services won't compromise your business hours as the PKI experts can be scheduled at any time of the day and make the adjustments with factory replacement parts and the latest maintenance techniques.
See Us In Action
• Food Equipment Repair
Malfunctioning equipment becomes very hard to manage at peak restaurant hours, that is why The PKI Group has the technicians and expertise to have your equipment up and running when needed. No matter whether you are dealing with a minor problem or a major dilemma, we can help around the clock.
• Preventive Maintenance
Our preventative maintenance programs help business owners to avoid dealing with malfunctioning food equipment that breaks down unexpectedly. These programs can help prolong the life of your food equipment to save repair costs over time.
The PKI Group – Professional Food Equipment Services
Commercial Kitchen equipment is the key to success and profit making in the food and beverage industry business. Also, working at its peak capacity means faster delivery, better quality food, and satisfied customers. Call the PKI Group for any of our services at (954) 530-3757.
Follow us on Facebook.
Download Our Brochure