After a successful commercial kitchen installation, your business is up and running and ready to operate and open the doors to public. The PKI Group has the experience of thousands of commercial kitchen installations and has some tips to make sure your employees work in a safe environment and that your customers received the best quality food and beverage.
Sanitation
Sanitation is crucial to kitchen safety including anything undercooked or cross-contaminated. Consequences could be fatal and devastating to any business. Refrigeration is also a very big part of sanitation and sometimes it's not a simple as you think. Kitchen appliances are not always reliable in the way they seem, and sometimes they may report the incorrect temperature, so make sure you have the proper refrigerator maintenance every month if possible.
Bacteria
Bacteria is also a major focus of sanitation. In addition to washing cutting boards, sometimes the sink itself can be a major source of harmful bacteria just waiting to come aboard plates and back to us. Check under the sink and use bleach to kill mold underneath sinks.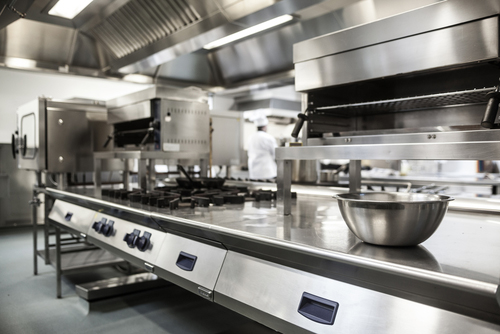 Chemicals
Certain chemicals are NEVER ok to mix such as bleach and ammonia. These chemicals cause relations that will burn you just from being combined. Be sure you handle and harsh chemical agent with the proper gloves and always dispose of the chemicals properly into a trash receptacle.
Knife Safety
Knives should always be cared for delicately as they are not only very costly, but they are very dangerous. Never place a knife in the sink as someone may not know it is there and hurt themselves.
Glass Buckets
Every kitchen should use a glass bucket for broken plates, glasses, and other sharp objects that will not only tear a kitchen garbage bag but may hurt someone as well.
Grease Fires
Cover the fire with metal lids if it is a small, controllable fire. If the fire is too large use baking soda as this will not immediately contaminate other utensils such as spoons, spatulas, and other utensils. Your next option is the fire extinguishers that are available in wet and dry. If you are in a commercial kitchen, use a Class K wet chemical fire extinguisher. These grade fire extinguishers are usually found only in commercial settings.
Commercial  kitchen installations by the PKI Group
The PKI Group is here to help you get the most out of your restaurant concept and offer services in the South Florida area at a reasonable price with unmatched customer service. Our commercial kitchen services include: commercial hood installation, gas installations, commercial refrigeration, and commercial refrigeration repair. Call for a consultation at 954-530-3757 or click quote to be directed to our contact form.