Commercial Kitchen Repair Fort Lauderdale
Are you in need of a Commercial Kitchen Repair in Fort Lauderdale? Food and beverage businesses are more than ever in need to maintain their kitchen equipment. A big amount of money it's always invested in kitchen appliances, commercial kitchen hoods, and stainless steel countertops. However, the daily use at peak hours of the day could take this investment down the drain if not repair on time when need it.
With a regular maintenance, most commercial kitchen equipment problems can be easily prevented. PKI Group trained technicians specialize in repairing commercial kitchens for cooking, bakery, and food chain industries. We support restaurants and other professional kitchens throughout the Fort Lauderdale area with repeated customers that trust our services. Our professionals can repair and maintain any kitchen brand due to the proper training received from the equipment providers.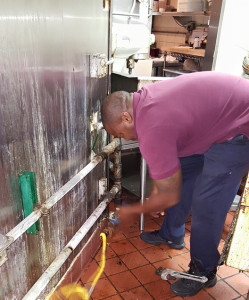 We can maintain your kitchen equipment even though we haven't installed it in the first place. We warranty that your investment and the future of your business will continue delivering top quality services.
Commercial food industry businesses come with unexpected surprises and stressful situations like when the equipment breaks down in the middle of a busy day. The PKI group provides kitchen maintenance and repair in Fort Lauderdale, with highly trained technicians that will be there when you need them. Let PKI Group handle the problems you're having with your equipment and get back to business!
The PKI Group – Commercial Kitchen Repair
The PKI Group has extensive knowledge of providing the best in commercial kitchen repair. Your business can't stop because of a kitchen not functioning properly. Our priority is to have your commercial kitchen up and running and working for many years to come. We also are experts in commercial kitchen installation, pick up and delivery, commercial refrigeration, warehousing, kitchen demolition and welding modification.  Trust your business with the best! Call us today at 954-530-3757 or visit commercial kitchen quote
Follow us on Facebook.