Great news for all our clients! Our second new truck in the PKI Group fleet is here now. We take enormous pride in all our equipment and want our clients to feel confident that their merchandise is being transported in the safest way possible, now with our new 2019 fleet, we can deliver anywhere in the USA!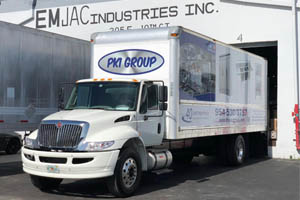 Both 26' long trucks are equipped with air ride suspensions, which provide the smoothest, most stable transportation for your equipment safe.
Cargo is transported as safely as possible by minimizing any major shocks due to excessive bumps that could potentially cause damage.
The 102" interior height allows us to transport refrigerated units vertically, without any height restrictions. Our lift gate's 3,500-pound capacity and 92" length facilitates loading and unloading the heaviest cooking and refrigerated equipment efficiently and securely. Also, we offer full coverage cargo insurance.
Commercial Kitchen Equipment Transportation services require a company with a lot of experience in the food and beverage industry. Unlike shipping standard items, kitchen equipment transportation requires special handling and trailers in order to haul them.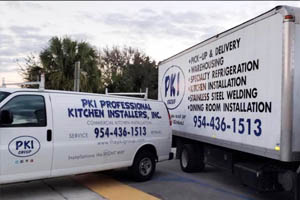 As mentioned before, our lift gate's capacity and other equipment in our warehouse facility ensure transportation door to door. We use forklifts and manpower to be sure they safely arrive at its destination. These are the things we do to make sure your kitchen equipment shipment is smoothly and efficiently delivered. We are the right kitchen haul specialist that makes sure you have your equipment within schedule.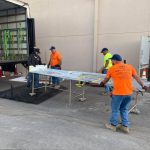 Commercial Kitchen Equipment Transportation by The PKI Group
If your equipment warrants a specialty trailer, it's highly likely that it will also require special permits, we carry special trucks for over-sized kitchen equipment to be loaded and transported with the necessary permits. Also, rest assured, your kitchen equipment is in good hands, as we offer freight insurance. With various trucking options for transporting your kitchen equipment, we only offer the best for our PKI clients! Call today for a FREE estimate at 954-530-3757