Commercial Kitchen Hood Installation
Are you looking for a commercial kitchen hood installation? In a commercial kitchen, you will have fumes, food odors, excessive heat, and smoke. To take care of these situations, a kitchen hood will not only keep a healthier and cleaner environment but also more comfortable for the restaurant crew. For a professional kitchen hood installation, it is recommended to hire the services of a good company like The PKI Group.
Why Hire Us?
The PKI Group offers installation, maintenance, and service of commercial kitchen hoods, make-up air units, and exhaust fans to commercial food facilities in Florida and worldwide. We provide expert installation of commercial fire-safe ventilation systems and kitchen set-ups. We make sure that all of our commercial kitchen hood installations promote longevity, efficiency, and safety for your satisfaction.
We specialize in:
Kitchen hood and exhaust system installation and servicing
Heating, ventilation and air-conditioning units, vent and duct system set-up
Full integration of complete exhaust systems
Fire suppression systems
Commercial kitchen hood cleaning
And much more!
Our technicians are competent and highly trained in all aspects of kitchen ventilation. We will help you in any aspect of the installation, maintenance, operation, and improvements that you might be considering.
At The PKI Group, we customize our services to suit your requirements. Whether you own a small food shop, a large chain of diners, restaurants, a hospital, a school, or large scale commercial kitchen; our services are customized to fit any size and type of kitchen perfectly.
Kitchen Hood Installation and Maintenance
A kitchen hood system is primarily used to remove cooking fumes, steam, cooking odors, and grease produced from the cooking equipment. Furthermore, the usage of gas in the kitchen from cooking equipment result in the production of carbon monoxide gases. Also, boiling and washing equipment generates steam which has to be extracted from the kitchen. Therefore, regular maintenance is crucial for proper working and healthy environment of the kitchen. At The PKI Group, we can install and maintain kitchen hoods of any size, meeting HVAC specification and standards.
Air Movement
Achieving air balance is important if you want your restaurant kitchen ventilation system to be effective. At The PKI Group, we inspect your food service establishment and assess the amount of air change required.
When you hire our services, we visit your site and thoroughly, inspect your ventilation environment and then come up with a suitable solution.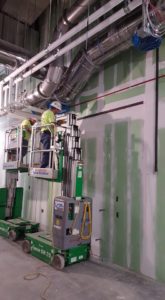 We specialize in the kitchen hood installation and service of:
Stainless steel extractor hood or canopy
Carbon filtration systems
Ventilation duct-work
Baffle filters or grease mesh filters
Make-up air systems or air input systems
Variable speed controller
Odor control unit
And much more!
The PKI Group – Commercial Kitchen Hood Installation
If you have any more questions regarding your kitchen hood installation needs, please feel free to contact us at 954-530-3757 or click HERE to fill out a quick form!
Follow us on Facebook.