When you are looking to elevate your restaurant to the next level, there is no better solution than a stainless-steel waterfall. It adds the perfect finishing touch to any restaurant and can be a unique feature that not many others will have.
Finding the ideal stainless-steel waterfall installation can be challenging, but once you have it in place, it's a decision you won't regret. Here is what you should know about stainless steel waterfalls:
What Are They
A stainless-steel waterfall for a restaurant is a decorative piece that can act as a partition or simply as a kinetic piece. The installation will have a soothing water fountain element and will be constructed only with stainless steel.
When considering getting a waterfall installed, getting low-maintenance options like stainless steel is ideal. You should look for experts in this area, as internal waterfall motor mechanisms can be quite complicated and need to be appropriately configured. When you want to incorporate an excellent water feature, the right experts will be able to incorporate it into any design without too much fuss.
Why It's Ideal for Any Space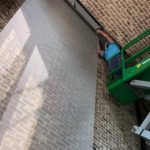 There are many reasons why these waterfalls are ideal for any restaurant space. It helps in masking noises, perfect for loud environments like restaurants. It also has a water element, which is relaxing and pleasing to look at.
Restaurants not only need to deliver good food but an ideal ambiance and a pleasing atmosphere. Opting for elements like a stainless-steel waterfall can be the right call when you are looking to attract your customers in innovative ways. You can look through various designs and ensure that you choose one that is eye-catching and will fit your requirements exactly.
Making Your Restaurant Look Sleek and Sophisticated
Getting your restaurant to give off a sophisticated atmosphere can be tricky without the right tools. A stainless-steel waterfall is not only innovative but quite futuristic too.
When you are looking to make your restaurant look sleek, sophisticated, and high-class, ensuring that you invest in elements like a stainless-steel waterfall is ideal. You can consider getting it done alongside your commercial kitchen renovations for convenience, and it will reduce the time your restaurant remains closed.
Cost-Effective and Superior Quality
There aren't many ways to upgrade your restaurant that don't come with an exorbitant price tag. These waterfalls are ideal for keeping your costs within a specific budget but want to add a design element. They don't cost as much as major renovations on your restaurant will and will be a unique piece for years to come.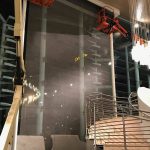 Stainless steel is a very durable material, and you can expect it to last for many years without constant maintenance. The regular inspections over time and cleaning will be enough to keep it functional.
Finding the Right Experts
There's no time to wait when you are interested in installing a waterfall in your restaurant. You should look for experts who know the intricacies of waterfall mechanisms and can combine them with stainless steel to make a unique piece.
You can find experts who are willing to deliver what you're looking for within a specific time. Get your stainless steel waterfall installed, and watch the customers come in!