Consider these effective tips on choosing the best kitchen installers
It is a fact that a commercial kitchen is considered one of the most important parts of a restaurant. If you are planning to renovate your existing commercial kitchen area, make sure you find and hire the best kitchen installers in your area that will help you improve the quality of your food, beverage, and service.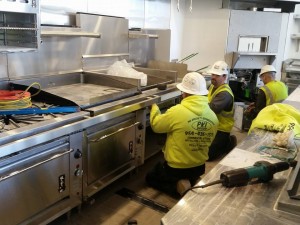 • Consider their years of experience and previous work. It is also important to review their portfolios to make sure that they have the ability to meet the design you want for your kitchen.
• Look for references and previous customers. You should always bear in mind that commercial kitchen installers should have excellent references that you could get in touch with. The main point here is, negative feedbacks, equals disappointment with the result of their service.
• Kitchen installers must have a license. They should have the proper licenses to operate in your area. You should also verify their board and contractor's licenses.
• It is crucial that your kitchen installers are willing to work with you every step of the way. Since it is your kitchen, your opinion and suggestions must matter. Make sure to hire commercial kitchen installers who are putting your preferences over theirs, especially regarding installation and design.
The PKI Group – Commercial Kitchen Installers
When it comes to kitchen installation, renovation, and demolition our company is the top choice to consider and hire. We have the expertise and 35 years in performing commercial kitchen installation services. With us, you can be sure that you will never be disappointed with the quality of our work. Contact us today at 954-530-3757 or click quote and we will be glad to assist and help you with your kitchen installation needs.