The food industry is highly competitive, and you need to maintain maximum efficiency and functionality in your commercial kitchen to give you an edge over competitors.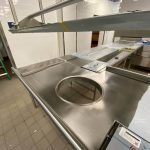 When you're getting your commercial kitchen outfitted to be fully efficient, stainless steel countertops offer versatility and multiple other benefits. However, not every countertop fits as desired. Custom stainless steel fabrication modifications are always needed, and extra parts have to be customized within hours of the installation process.
The PKI Group understands that your commercial kitchen will look more professional with a stainless steel fabrication job. That is why they offer custom parts to fit any commercial kitchen within the guidelines of an existing space. Nothing can compare to the durability and use of stainless steel in commercial kitchens, and that is what we know best.
Stainless steel, particularly variants like 304, is highly heat-resistant and provides superior rust resistance. It doesn't allow stains to penetrate the surface, which can be convenient for high-volume food that is created in commercial kitchens.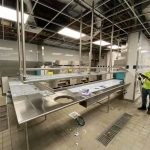 It is also a relatively easy and convenient surface to clean, with many professionals using essential cleaning tools and equipment to maintain the spotless shine on stainless steel. Using an abrasive cleaner regularly can retain the brand-new look of your stainless-steel kitchen surfaces for years.
Advantages of Metal Fabrication
Stainless steel is one of the most durable materials and is resistant to corrosion. It can withstand a range of temperatures and environments that make it suitable for any kind of kitchen.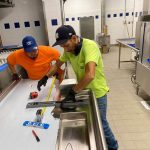 It is also a sanitary choice, as stainless-steel surfaces remain non-porous to any type of food. Making a one-time investment into getting custom stainless steel fabrication for your commercial kitchen is a good idea for anyone who's looking for a strong, durable, and visually appealing addition to their space.
Need Stainless Steel Fabrication For Your Commercial Kitchen? Our Technicians Are Available to Help!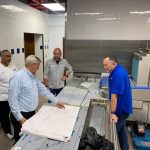 Custom stainless steel fabrication lets your kitchen surfaces be customized according to your requirements and needs. Through cutting, forming, and assembling, you can achieve perfectly customized surfaces for your commercial kitchen.
When you need an expert to craft and install custom stainless steel fabrication for your commercial kitchen, trust our technicians at PKI Group. Our experts have been dealing with commercial kitchen requirements in Tamarac, Florida, for years, knowing the ins and outs of the ideal stainless steel fabrication. Call at 954-530-3757 to get a consultation on your custom stainless-steel fabrication.