Commercial Kitchen Equipment Installers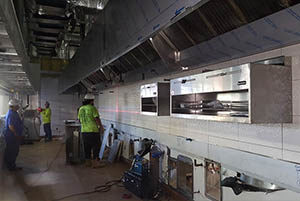 Are you looking for commercial kitchen equipment installers? Whether you are buying a commercial kitchen for a food and beverage related business, there are things to consider when purchasing and installing your kitchen equipment. A commercial kitchen must comply with local safety standards. This particularly holds true for professional installation and maintenance of extraction hoods because their primary purpose is to keep your kitchen protected and clean.
If you manage or own a restaurant in Florida or worldwide, The PKI Group is the commercial kitchen equipment installation and repair company to call. We are experts with cooking equipment, dishwashers, refrigerators, and counters more.
Why Hire Us?
The PKI Group is ready to get your restaurant equipment back up and running in a professional and reliable manner. We specialize in nearly every piece of commercial kitchen equipment. From refrigerators to ovens, The PKI Group has a qualified team of factory trained and licensed service technicians to offer you premium quality installations. We service almost every refrigeration and cooking equipment manufacturer on the market.
Some of the primary reasons why The PKI Group should be your first choice for commercial kitchen equipment installation and repairs include:
Fastest response time in the industry
Customer service excellence
Quick and reliable solutions for commercial kitchen installations and repairs
Dedication to manage and expand the lifecycle of your restaurant equipment
Invaluable insight into effective restaurant equipment installations
24-hour emergency service
Follow-on maintenance and repairs if required
Highly qualified and factory trained technicians
Cost competitive rates
And much more!
Our Services
Equipment Installation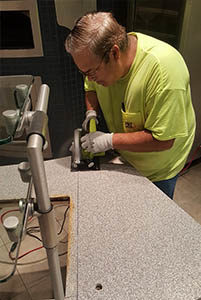 Whether you need to outfit an entire kitchen or just install a replacement unit, technicians at The PKI Group are ready to install your restaurant kitchen equipment professionally. We hold ourselves to highest service standards, so you can be sure that your equipment will be installed properly.
Cooking Equipment
We can help you with all your cooking equipment needs, regardless the size of your kitchen. We can install and repair almost every piece of commercial cooking equipment, including:
Standard Ovens
Stoves, Grills, and Ranges
Pressure Fryers and Deep Fryers
Chargrills and Charbroilers
Refrigerated Equipment
Our Commercial Kitchen Equipment Installers can also give you professional advice on purchasing products like:
Under-Counter Freezers and Refrigerators
Upright Freezers and Refrigerators
Walk-In Freezers and Coolers
Refrigerated Displays
Ice Machines
Wine and Beer Coolers
And more!
The PKI Group – Commercial Kitchen Equipment Installers
At The PKI Group, we pride ourselves on providing high-quality services and professionalism to all of our clients. When you hire our services, you are choosing to work with a team of highly qualified and dedicated technicians. We will come to your business prepared for installing and repairing various types of commercial equipment and parts.
Call us today at 954-530-3757 or click Equipment Repair for further assistance.
More Commercial Kitchen Services by PKI