Commercial Refrigerator Repair
Are you looking for a commercial refrigerator repair? A refrigeration equipment is an investment that needs the proper maintenance, so it runs for years. Even though, a high-quality commercial refrigerator is designed to last for several years and endure the test of time, it might not last for decades. Since it is consistently used, there are chances for it to encounter some problems.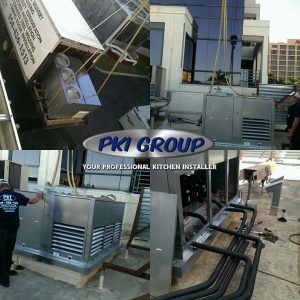 If you hear an unusual sound in your refrigeration unit or is not performing, as usual, it should not be left behind and unresolved. A malfunctioning unit means loss of profits and loss of regular customers. It could also affect the day to day operations of your business. With no adequate storage for perishable goods especially those items that should be stored within a particular temperature range, additional expenses will arise. All these bad circumstances can be prevented if your commercial refrigerator is regularly inspected.
The PKI Group – Commercial Refrigerator Repair
Our team of professionals can handle all kinds of restaurant equipment installations. From refrigeration systems to bar equipment, we can also pickup-up, and deliver your restaurant equipment and products if you have to replace a new unit for the damaged one. Remember, as soon as you notice that something is not working correctly, seek our assistance and we will be happy to assist you. Our commercial refrigeration services will bring your unit up and running again. Call us today at 954-530-3757 or click HERE.
More Commercial Kitchen Services by PKI