Kitchen Demolition Services
Are you planning to remodel your commercial kitchen or planning to buy a restaurant that has a previous kitchen that doesn't fit your needs? If your answer is yes, it is crucial that you are aware and familiar with the necessary requirements for kitchen demolition. Kitchen demolition means removing the countertops or dismantling the entire kitchen area completely. In the present time, there are lots of companies that offer kitchen demolition services, but The PKI Group is the best kitchen demolition service provider that you can trust and depend on.
How The PKI Group Kitchen Demolition Works
Our company is one of the best kitchen demolition service providers due to our years of expertise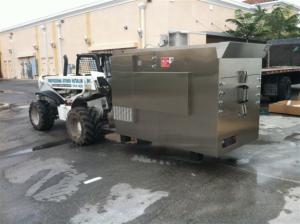 and experience in performing the stated job. With our help, you can be sure that your commercial kitchen demolition job is easier, safer and faster. We are fully equipped with the right materials, equipment and tools to execute the job in the shortest duration of time. In addition to this, we are composed of a professional, reliable and competent team that are well trained and fully certified and skilled in providing our clients with top quality kitchen demolition service.
Why Choose Us?
Our company has knowledge and expertise in removing plumbing and electrical outlets. We make use of safety measure to make sure that you can avoid unnecessary expenses. Apart from this, we know the proper way to remove your old cabinets and appliances securely and safely. We also know the appropriate and safe way to remove fixtures such as faucets and knobs. With our years of experience, our clients are assured that they will never be disappointed with the quality of our kitchen demolition service.
Customer satisfaction and service is our top priority, and this is one of the top reasons why we work hand in hand to guarantee our clients that we can meet and exceed their needs, demands and expectations. Furthermore, we have knowledgeable, professional and competent staffs that are well trained and thoroughly skilled in providing our clients with high-quality kitchen demolition service. When it comes to our service fees, our customers don't need to worry since we offer affordable prices and rates that will suit with their budget. Call us today at 954-530-3757 or fill out a quick Quote and we will be back to you shortly.
More Commercial Kitchen Services by PKI