Commercial Kitchen Stainless Steel Welding Repair
Repairing metal is a difficult and tricky task, but it is also a necessity in case of an equipment breakdown. Getting your broken equipment welded promptly can save you a lot of time and money. That is why, whether you need a custom welding job, a simple one or any other repair, The PKI Group can handle it professionally.
Why Hire Us?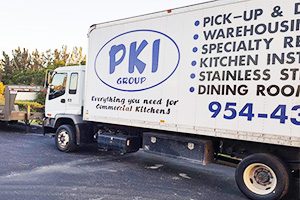 The PKI Group offers versatile welding repair services in Florida and its surrounding areas, specializing in stainless steel and fabrication. We use the latest equipment, machinery, and experienced welders to achieve quality precision, full penetration, and appealing aesthetic appearance. Our team of certified welding repair experts is capable of providing high quality work and attention to detail on every task.
We bring innovation to our customized services and repair solutions thanks to our experienced, knowledgeable CAD designers and welders. Metal pieces that would've taken longer to order, and arrive at our warehouse, now can be fabricated in our facilities in a fast, timely manner. Moreover, every commercial kitchen stainless steel welding repair project we undertake is always done right the first time.
• Stainless Steel Welding
When it comes to stainless steel welding, our services are unmatched offering a wide range of solutions, performing the most complex and challenging jobs. Our area of expertise lies in stainless steel kitchen counters, refrigeration welding repairs, and other commercial welding solutions. However, we also take on projects outside these fields.
• Metal and Custom Fabrication
We specialize in sheet metal fabrication projects for the food and beverage and refrigeration industries. To complete most of our commercial installation projects, we have to modify and customize stainless steel pieces right at the moment. That is why, if you are looking for quality metal fabrication work, The PKI Group does it all.
The PKI Group Commercial Kitchen Stainless Steel Welding Repair
Our experienced team provides efficient, and quality craftsmanship as welding is a skilled labor that requires dedication and time to achieve expertise. The PKI welders are recognized throughout Florida for their reliability and commitment to a job well done. From commercial kitchen counters customizations to stainless steel column covers, we can handle any job. For all kinds of welding repair, fabrication and installation needs, the PKI Group is here to help! Call for further assistance at 954-530-3757
Follow us on Facebook.