It is an honor for The PKI Group, to work for the Columbia Restaurant, one of the state's oldest restaurants in Tampa, Florida. The client requested our services to improve their kitchen layout in one day, and two crews were needed to finish the task at hand.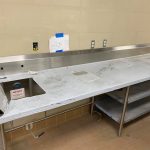 The day started by carefully transporting the stainless steel countertops from The PKI Group headquarters located in the city of Tamarac, all the way to Tampa, FL. Upon arrival, we began the job by placing the tables inside the restaurant's kitchen.
After previous calculations, we remeasured to confirm how well the countertops are going to fit, as well as taking into consideration other elements inside the kitchen. Once everything was cleared, we proceed to weld them in an L shape configuration to fit them perfectly next to the conveyor dishwasher. Also, we polished the final product to make the weld untraceable to the eye.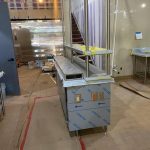 Other tables were welded along the kitchen area with hanging rack shelves connected to the ceiling with stainless steel tubing with successful results.
After a whole day of work, we successfully finished on time, exceeding the client expectations, and ready to take upon other projects. No project is too big or too small for The PKI Group to handle! Are you in need of a commercial kitchen installation? Don't hesitate to call us today!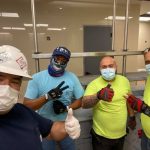 The PKI Group Commercial Kitchen Installation Tampa Florida
Our headquarters is centrally located in Tamarac, Florida. We provide all the necessary accommodations to discuss any of our services and advise you on what commercial kitchen equipment is the best value and most suitable for your type of operations and the success of your business. We specialize in commercial kitchen and refrigeration installations, maintenance and repair, fabrication, welding modifications, gas line installations, demolition, and warehousing. So whether your project is large or small, you can count on the PKI Group to successfully install your next project with quality and competitive prices. Contact us today at 954-436-1513