Your Trusted Kitchen Installer Since 1979

Specializing in refrigeration and commercial kitchen equipment
Specializing In Commercial Refrigeration Repair Davie Florida
Searching for Commercial Refrigeration Repair in Davie FL?
If so, we can help! Expert installation and careful maintenance of your commercial refrigeration can make your restaurant or any other food and beverage business run smoothly at all times. It is recommended that you trust a company that not only will install the equipment properly but also that has years of experience repairing all makes and models to guarantee your commercial refrigeration working as expected at all times. The PKI Group is the best choice in this regard.
Why Hire Us?
The PKI Group offers dependable and fast commercial refrigeration services in Davie and its surrounding areas. Our certified and highly trained staff offers installation, repair, service, and maintenance of commercial refrigeration systems for various industries. We install, repair, and service all major commercial refrigeration brands. Customer satisfaction is our top priority. So you rest assured all your commercial refrigeration equipment is in good hands.
We have been in the commercial refrigeration business for many years, and our reputation has always grown and continues to be our primary concern. That's why we strive to do the job right the first time and take great care of our customers. Food and beverage businesses are looking for commercial refrigeration companies like The PKI Group. We would be honored to be your trusted commercial refrigeration company committed to offering you superior service 24/7.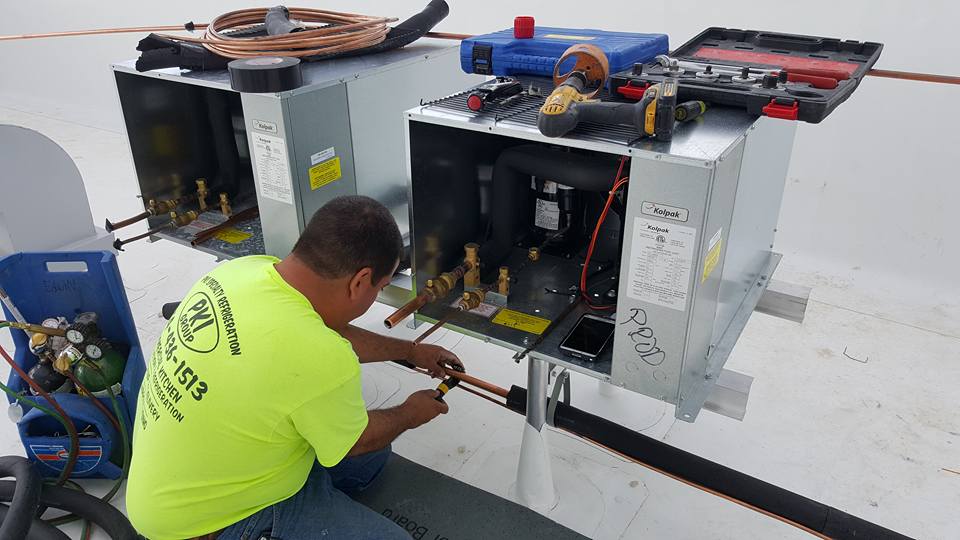 Latest Reviews:
[RICH_REVIEWS_SHOW num="1″]
Featured Projects
[ess_grid alias="homeprojects1″ orderby="date"]
See The PKI Group Accomplish Perfect Kitchen Installations
Commercial Hood Installation
Specializing In Commercial Refrigeration Repair Davie Florida
Commercial Refrigeration Installation
Whether you are building a new restaurant or upgrading an existing one, contact The PKI Group today! We help you choose the system that is best suited for your budget and needs, providing courteous, and professional services at all times.
Commercial Refrigeration Repair
Finding a reliable commercial refrigeration repair company can be a daunting task, particularly when you are faced with a leaking unit that is incapable of satisfying your business needs. Don't settle for amateur and unpredictable technicians! The PKI Group is the only call you need to make for your commercial refrigeration system needs. Our expert repair technicians will quickly diagnose the problem and offer prompt service, so your unit is up and running in no time.
Commercial Refrigeration Maintenance
Proper maintenance is crucial for commercial refrigeration systems, especially in locations with high temperatures. The temperatures in Davie region can lead your commercial refrigeration systems trying to compete with the external air temperature. The PKI Group offers preventive maintenance program with scheduled service checks so that your refrigeration system keeps running in tip-top shape. With our scheduled maintenance program, we will help determine potential problems beforehand, so you don't run into them later.
The PKI Group serves Davie Florida & More
Serving Davie, the United States and Internationally…
The PKI Group has built and installed kitchens for hundreds of clients since 1979. Contact us today for a perfect Commercial Kitchen Installation everytime.